The 5 Love Languages by Dr. Gary Chapman
Words of affirmation, quality time, gifts, acts of service, and physical touch are the five languages that author, Chapman discusses in this book.  He explains the purpose of each "language" and shows you how to identify the one that's meaningful to your spouse.  This book offers a questionnaire at the end so you and your partner can find out what love language you are.  This book really connects to its readers and simplifies the secrets to a happy and healthy relationship.  Read more by clicking here.
Boys Adrift by Dr. Leonard Sax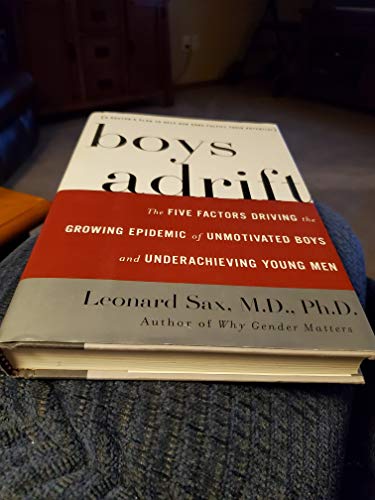 If you're the parent of a boy, we highly recommend this book.  Sax discusses five factors why boys today are unmotivated.  He looks at the way children are taught and the role that video games, prescription drugs, the lack of male role models, and environmental estrogens play.
Girls on the Edge by Dr. Leonard Sax
If you're the parent of a girl, we highly recommend this book.  Sax talks about the causes of why girls are so fragile today.  He shows why a growing proportion of teen and tween girls are confused about their sexual identity and obsessed with grades or social media. Sax provides parents with tools to help girls become confident women.
The Collapse of Parenting by Dr. Leonard Sax
This is a must read for any parent.  Dr. Sax talks about the problems that parents experience with their children and offers up practical solutions.  As you can see by all of the recommended reads, Dr. Leonard Sax offers extremely valuable content for parents of teens.
Emotional Intelligence by Daniel Goleman
This book is a phenomenal read and talks about the impact of emotional intelligence on the success of human beings.  This author believes that having a high IQ is no guarantee for success or happiness and that emotional intelligence is more valuable.  As a therapist, I couldn't agree more.
Yes, Your Teen is Crazy by Michael Bradley
This book gives you a lot of insight into the world of adolescence and why teens behave the way they do.  The better you understand why your teen behaves the way they do, the more likely you will take a more productive parenting approach.
The Seven Principles for Making Marriage Work by John M. Gottman, Ph.D.
This book combines content and activities to help strengthen marriages.  It talks about habits that can help or destroy relationships.  This book is a New York Times bestseller.
1- 2-3 Magic by Dr. Thomas Phelan
This book teaches you about a system that you can implement at home with younger children  so they behave more and become more compliant.  It will lead to less yelling, arguing, and tantrums.  There is also a DVD available that walks you through the process of 1-2-3 magic.
The Explosive Child: A New Approach for Understanding, and Parenting Easily Frustrated, Chronically Inflexible Children by Ross W. Greene, Ph.D.
This book has a unique approach to parenting children who are easily frustrated and chronically inflexible. It focuses more on skills that are lagging and unsolved problems as opposed to behavior. This book offers practical and proactive strategies to help alleviate concerning behaviors in children.